Own Boat Tuition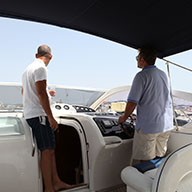 Make the most of your own boat
Own Boat Tuition is a great way of getting to know your own boat better, sailing or driving her better and understanding the systems and navigation equipment on board. We tailor the training schedule around you, and the only pre-requisite is that your boat is seaworthy, fully insured, has all required papers and meets the safety requirements of the RYA. But don't worry, we will come and visit you onboard, check the boat over with you and work a programme of training around you and your individual interests.
---
Private Tuition Courses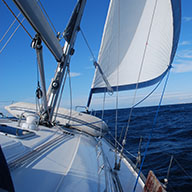 Ideal for families and friends - holidays with tuition
Private courses are a great way of enjoying a sailing or motor cruising holiday whilst learning new skills with friends and family. You bring your family and friends as crew and we will tailor a course that will suit you best, whilst fulfilling the training syllabus according to the certificate you are hoping to achieve. You can learn on your own boat, a charter boat or one of our fully equipped training yachts.
---
Pre-Charter Refresher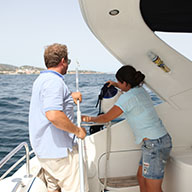 Start your boating holiday with total confidence
If you don't get chance to go boating very often, maybe just once a year or less, then it is a good idea to spend the first day or two of your charter holiday with an instructor on board. This is an invaluable way to ensure you get the most from your holiday, feeling relaxed and confident with your boat. We will show you around your vessel, refresh your skills at berthing and anchoring, remind you how to complete the daily checks and run through a couple of emergency drills so you and your crew know exactly what to do. Take the stress out of your sailing holiday with one of our friendly, relaxed and fun Yachtmaster instructors on hand to show you the ropes.
---
Helmsman (Motor)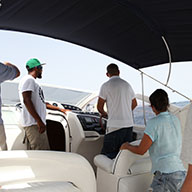 This two-day course is ideal for new owners conscious of the difficulty and hazards of boat handling in the marina and also useful for crews and skippers. This course covers boat handling, helmsmanship, safety and basic engine maintenance and after the course you will be competent to a handle motor cruiser of a specific type in sheltered waters. This course is usually done on an 'own boat' basis as it is ideal for new owners to get to know their new motor cruiser.